The award was presented by Miklós Lengyel, Deputy State Secretary of the Ministry of Foreign Affairs and Trade. Check out our interview with Ivana, who studies Industrial Design Engineering at Óbuda University, and listen to her perspectives on the program and her experiences in Hungary.
Author: Fabeeha Maroof, International Alumni Volunteer
How did the SH scholarship contribute to improving your professional and/or personal skills?
Being part of the international community created by the Stipendium Hungaricum Scholarship Programme has allowed me to interact with highly motivated and successful students who come from different cultural and academic backgrounds. This has had a significant impact on my intercultural understanding and my interpersonal communication. Additionally, my experience as a mentor for the Stipendium Hungaricum Mentor Network has motivated me to be a better team player, public speaker and problem solver. The access to Hungarian research and production facilities and the connection to professionals who thrive in such a competitive, globally recognized and industrially acclaimed environment is greatly inspiring and an experience I wish for all young people who are passionate about building their careers.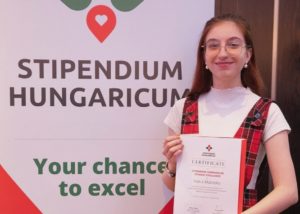 What do you think about your university and your study program?
Industrial Design Engineering is a unique and impressive area of study. I am very excited that my university has been able to deliver it to us with so much attention and a significant understanding of the current global market. Our curriculum is the perfect mash of technology, engineering, applied art, and business – it always manages to inspire my curiosity and creativity. We learn from professors who have years of experience in the industry and who openly inform us of the expectations that come with this profession. In general, Óbuda University is very lively, with many events and opportunities for research and collaboration. The university is a welcoming and diverse environment that seems to be growing and improving every semester.
Why would you recommend to study in Hungary?
Hungarian education is one of the most competitive and developed in Europe, with some of the world's greatest achievers as its alumni. The industry in the country is massive, with a long and reputable history. Budapest is an architecturally marvellous, organized and beyond-interesting city, which encourages you to challenge your independence. Apart from the many academic events, a huge selection of scientific and artistic museums, and a lively party scene – the city offers every form of entertainment you could ever imagine. Hungarian culture is a completely unique, rich and colourful experience that leaves me amazed even after all this time.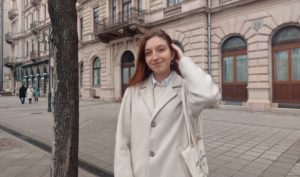 What would you advise those who are planning to apply for the SH scholarship?
I would advise all potential students to fearlessly give this opportunity a chance, to learn more about the program, to hear stories of the current scholarship holders and alumni, and to fully immerse themselves in the process. It is important to imagine their potential future in the program as a unity of everything that comprises the university experience. The choice of major and quality of education should, of course, remain a priority, but they should also get informed about the community, the environment in the city of their choice, and the accessibility to their hobbies and interests. The Stipendium Hungaricum Scholarship Programme has an impressive portfolio of a variety of institutions and I am sure that there is a good fit for everyone; so I encourage all who apply to be curious in the research for their perfect match.
What is the best earning of being a Stipendium Hungaricum Scholarship holder?
The greatest benefit of being a student in the program is the peace of knowing that you are welcome, supported and appreciated at every step of your journey. The encouragement and guidance are ensured from the first moment of entering this community through the work of the Stipendium Hungaricum Mentor Network and later – through participation in the Alumni Network, connection persists even after your journey in Hungary is complete. The scholarship is of course an immense support that allows us to put a stronger emphasis on our academic performance without the financial burden. The program is also actively expanding its network and ensuring that there is interaction and collaboration between participants that extends beyond the official events and becomes a major part of our social life as well.