The award was presented by Miklós Lengyel, Deputy State Secretary of the Ministry of Foreign Affairs and Trade. Check out our interview with Hoang Nguyen Khan An, who studies International Business Economics at Eötvös Loránd University (ELTE), and listen to her perspectives on the program and her experiences in Hungary.
Author: Fabeeha Maroof,  International Alumni Volunteer
What do you think about your university and your study program?
In ELTE, knowledge is highly valued and enhanced throughout various academic activities, such as research projects, competitions, and a variety of majors. Moreover, a diverse network of students from 9 faculties and more than 100 countries broadens the exchange of knowledge beyond the classroom. International Business Economics is also a multi-disciplinary program where I can explore various dimensions of the business world. I enjoy the learning process at the university and I am eager to contribute more to this "community of knowledge."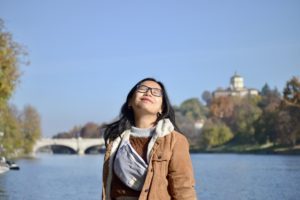 What is the best earning of studying in Hungary?
Studying in Hungary has been a turning point in my life both academically and personally. Coming from an Asian culture, I have always lived a hustling life without taking time to understand myself completely. In Hungary, I could slow down and focus on my personal growth as well as my self-interests. I have discovered potentials in myself that have always been hidden, such as the ability to influence others. My passion for researching Leadership and Management is also strengthened after being exposed to different fields in Business and Economics.
How did the Stipendium Hungaricum Scholarship Programme contribute to improving your professional and/or personal skills?
Applying for the Stipendium Hungaricum Scholarship Programme requires a lot of hard work and patience, but sustaining the scholarship is even more challenging. To remain a scholarship recipient, I always strive for excellence both in my academic and professional life. Thanks to this, I am more resilient and persistent towards my goals. I am also more active in university life as I feel the need to contribute to the SH community in ELTE.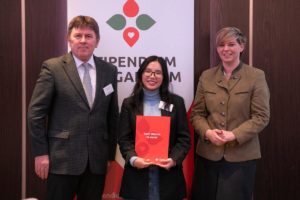 What are your future plans or goals? How can the programme help you to achieve them?
In the future, I want to work for multinational companies and travel the world while working. I also want to befriend people from different cultures and make long-lasting relationships. The Stipendium Hungaricum Scholarship Programme is the stepping stone for me to achieve these goals as I am able to meet people from all over the world at a very young age. In this way, I can be a global citizen and know how to deal with cultural shocks and cultural differences.
What would you advise those who are planning to apply for the scholarship programme?
Getting a scholarship is not easy but the future opportunities are worth your effort. The first step to winning the scholarship is to clearly identify your goals, i.e. what you want to achieve with this scholarship. Having a burning motivation will come in handy when you face challenges throughout the scholarship application. Let the Stipendium Hungaricum Scholarship Programme application process be the start of your beautiful journey in Hungary – the heart of Europe.