Author: Manish Kumar, International Alumni Volunteer
The Award of Excellence is given to those Scholarship Holders who have achieved the most outstanding academic performance and contributed to the development of the Stipendium Hungaricum community. The award was presented by Miklós Lengyel, Deputy State Secretary of the Ministry of Foreign Affairs and Trade. Check out our interview with Suzune from Japan!
What made you choose Hungary? What are your impressions so far?
One of the reasons why I chose Hungary is that Hungary was a mysterious country for me in a good way. In Japan, studying in Hungary was not well known until a few years ago, and it was an undiscovered country for me. That is why I did not hesitate to come and study in Hungary. Currently, I am very content to study in Hungary because it provide high-quality education, I can interact with many Hungarian and international students, and I can experience new cultures!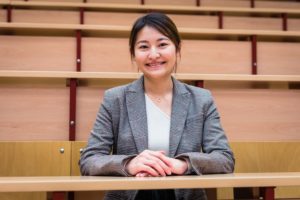 What do you think about your university and your study program?
My university is Széchenyi István University which is located in Győr. I am studying International Relations BA, and there are 10 coursemates who are from Hungary, Vietnam, Laos, and Morocco. I study a wide range of subjects, such as economics, politics, culture, law, and language, which makes me very knowledgeable. All my professors are very trustworthy since they have high expertise in their field, and learning from them is very meaningful to me. In fact, my course is relatively small compared to other courses, however, it has many advantages since we can discuss a lot during the lecture and build a close relationship with my coursemates as well as with my professors.
What was your biggest motivation when you applied for the SH Excellence Award?
I applied for the SH Excellence Award because it would be a great opportunity to let my family know that I am doing well in Hungary. Since we live far away from each other, and I do not go back to Japan often, sometimes it is hard to communicate with them regularly due to the time differences and schedules. Therefore, I feel sorry for my parents for worrying about me. I always wanted to thank my family somehow because they always cheer me up and support me. But then, I had an idea that this award could be a great gift for my family. Thus, when I received this award, my family was extremely impressed and proud of me which made me very satisfied.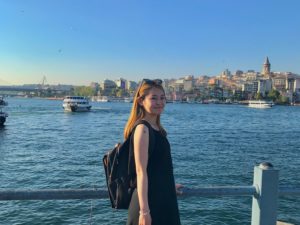 Why would you recommend to study in Hungary?
In my opinion, Hungary has many merits for international students both for academic and leisure purposes. Hungary has various types of programs taught in English with a high-quality education. Also, Hungary is currently one of the popular destinations to study, there are diverse communities from all over the world. Regarding the fun things, since Hungary is in Central Europe and a member state of the European Union, it is easy to travel around Europe during your summer/winter holidays. Moreover, Hungarian cuisine is awesome! There are traditional dishes using paprika spices as well as a wide variety of süti (sweets)!
What are your future plans/goals? How can SH help you to achieve them?
In my plan, I would like to work in an international environment around Europe in the future. I am currently very flexible however, I would like to work in the field of minority issues since that is my academic interest. In addition, from my experiences, the European working style is well balanced between work and life compared to the Japanese working style. Therefore, now I am studying in Hungary using the Stipendium Hungaricum scholarship and hopefully, I can get a Hungarian diploma that is valid in the EU member states. It would help my future career for sure.