The Award of Excellence is given to those Scholarship Holders who have achieved the most outstanding academic performance and contributed to the development of the Stipendium Hungaricum community. The award was presented by Miklós Lengyel, Deputy State Secretary of the Ministry of Foreign Affairs and Trade. Check out our interview with Adwoa, from Ghana.
What made you apply for the SH scholarship?
I applied for the SH scholarship because it is one of the most prestigious scholarships in Europe. I admired that SH presented the opportunity to advance my academics and to join an ever-growing international community right in Europe. The renowned excellence of the Hungarian universities especially my school also motivated me to do so.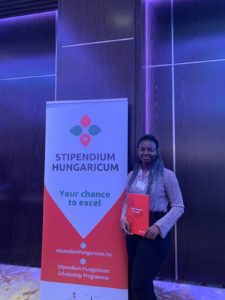 What is your biggest professional/scientific achievement that is related to SH?
Winning the SH Excellence Award. It is a great achievement for me and a great motivation for my studies here in Hungary. Because of this award, I believe that I would have a lot of opportunities in my professional career. Which can be a motivation for others to apply for the SH scholarship.
How can SH contribute to being successful on the labor market?
Being an SH student is another achievement, one that will impress many in the labour market. Companies will look forward to working with students from the SH program since it's prestigious and the students have completed it successfully which makes them an asset to the company.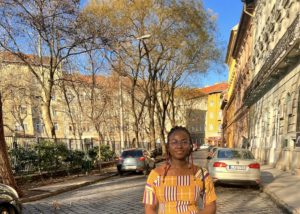 Why would you recommend to study in Hungary?
Applying for the SH scholarship is a big step towards having lots of beautiful experiences in your life. Through this scholarship, you will gain deep knowledge in your chosen field of study that will contribute a lot to your professional life and many other experiences that will help your personal growth.
Author: Anna Brjezovskaia, International Alumni Volunteer