At the end of June, we organized the annual online Farewell Week for graduating students who could share their Farewell speeches, while non-graduate participants sent congratulation videos to them. If you haven't seen the Farewell Speeches or the congratulation messages, check them out!
As part of the annual farewell celebration, the Stipendium Hungaricum Farewell Event was organized on 4 July on A38 Ship. The programme started in the early afternoon with the welcoming words of Miklós Lengyel, Deputy State Secretary of the Ministry of Foreign Affairs and Trade, who officially opened the event. He greeted the students with kind words and wished them success and joy in their future careers. After the speech, Gábor Dobos, Director of Study in Hungary from Tempus Public Foundation also gave his farewell speech in which he expressed the importance of networking and staying connected. Finishing the formal part of the ceremony, Damilia Arzybekova as a new alumni volunteer gave a speech in the name of the graduating students.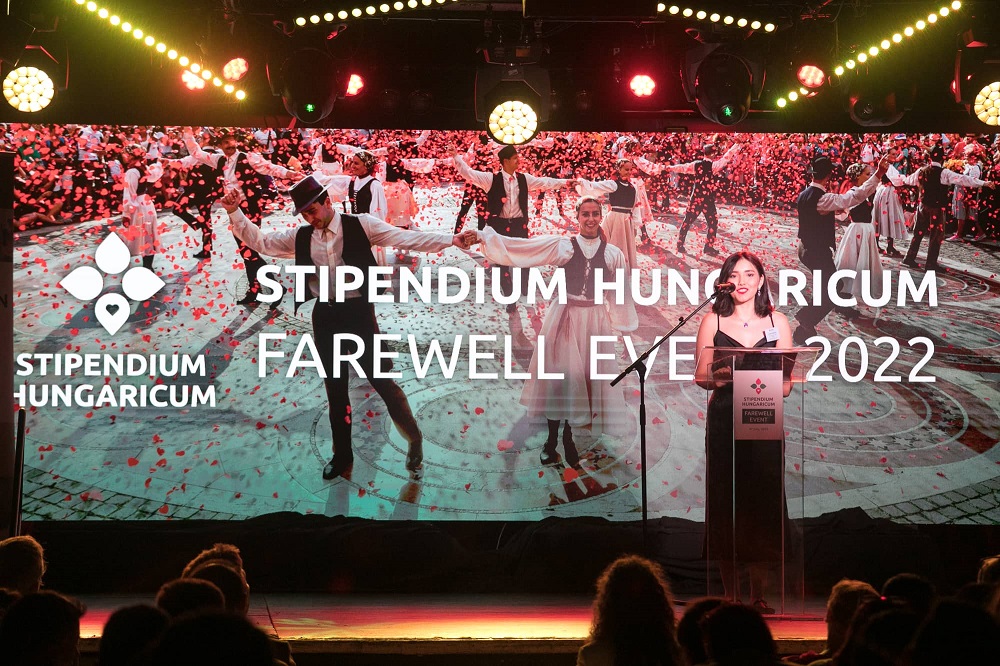 "Good evening to everyone present here to witness the farewell of class 2022.  I feel very honoured to be present here and give a speech today.  First, I would like to congratulate all the Stipendium Hungaricum students who graduated this academic year. We came a long way: starting from initial applications for the programme, leaving our home countries till the day of our final examinations. Each of us should be proud of ourselves for setting the goal and achieving it.
Hereby I would like to say thank you to the Hungarian Ministry of Foreign Affairs and Trade and the Tempus Public Foundation that they provide this scholarship for us to achieve our dreams. I believe that all graduates would understand how much we are going to miss this place and as the saying goes the magic is not in the place but the people that surround it.  I am grateful for this priceless opportunity to study in Hungary. I met beautiful people that including my friends, my professors, and all the staff at my university. Everyone here is friendly, especially the faculty members who helped us whenever we doubted any subject which could be either academic or non-academic. On behalf of everyone, I can proudly say that you made us into better people and helped us with the obstacles that we faced. Thank you for helping us.
I would like to conclude my farewell speech by saying that this farewell is not the end, it cannot be the end of the memories and bonds we created with each other throughout these years. From today you can open a new chapter in your life and as an alumni volunteer, I would like to mention the Alumni Network Hungary where you can keep in touch with Hungary and with your friends. Here are some volunteers with me and feel free to connect with them. Life might not be easy from now on and there could be a lot of challenges that will be thrown at us in the future. Nonetheless, always remember that a diamond can only be made when it survives all the pressure and heat in its life. Thank you, everyone and I wish good luck to each one of you for your bright future! Happy Farewell!"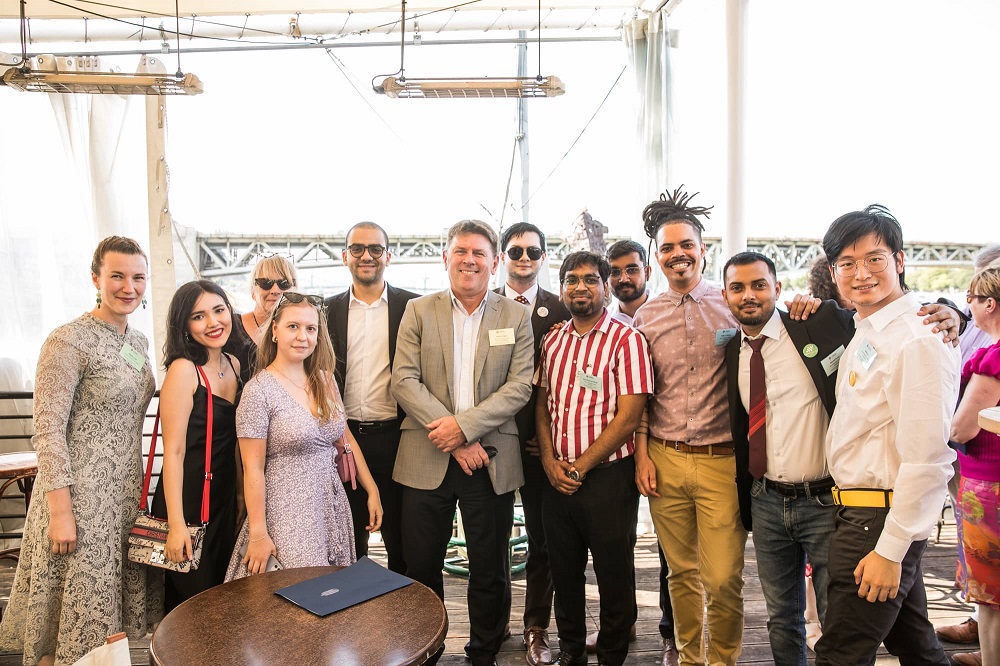 After the official part of the programme, guests had the chance to network with each other while enjoying a delicious dinner with various courses. During the reception, students gave interviews about university years, and life in Hungary, and advised the future generation of Stipendium Hungaricum Scholarship Holders.
During the event, we could also meet the International Alumni Volunteers who are active members of the Alumni Network! Read more about their tips for the new alumni and their experiences from the event!
Beier Liu's tips for the new alumni: Don't forget to join the Alumni Network Hungary for more proceedings and information; think about your meaning of existence and never fail it. For people seeking jobs, it would be nice to start with some language skills to amplify visibility; for the continuing scholars, don't be too greedy to work on several projects at once, however, do make the interdisciplinary team into frontier topics! Wish everybody the best of luck!
Ayaz Shaikh's tips for the new alumni This is not the end but a fresh beginning as professionals in the fields; you will take many good things from Hungary which you can share with the world and be the ambassador of Hungarian education. Be vigilant and kind to people; always get ready for networking because it connects you with the world of opportunities. I wish you all the best in your future endeavours!
Heemanshu Gupta's tips for the new alumni: I would say to new Alumni that "Don't disappear after you graduate!". Utilize every single opportunity to connect with your fellows, in this way, you will not just develop professionally and socially but also you never know maybe after 10 years some of your fellows are doctors, politicians, etc and could help you in the future. Also, there's a huge possibility to have your fellows all around the world who can guide you in their city/country, etc.