Why did you choose Hungary and Budapest Business School (BBS)?
I chose Budapest Business School because I thrive on advancing my academic knowledge and professional skills. Studying in Hungary embodied the diversity in its programs and activities, and most importantly in its large alumni network. I was informed about the extended Stipendium Hungaricum Scholarship Programme in 2015 through the website of the Ministry of Education and Science, so I was lucky to check it on time and applied for a Master's degree. During my application period, I was impressed with the extensive curriculum of the BBS offered and the study-and-live lifestyle in Budapest.
How did you like your studies? What was your favorite memory during your studies?
I have embraced my passion for international development and excellence in research during my studies. Besides the academic journey, the trips around Budapest organized by the international student-faculty were the most memorable for me. For example, the Dripstone Cave "Baradla" located in Northern Hungary was truly impressive, especially riding horse carriages and visiting World's Largest Book (Szinpetri) in the town and walking around sightseeing while enjoying the local traditional cuisine. Additionally, the Danube River Cruise in Budapest was the most peaceful memory of exploring the city's sights and architecture with my friends, especially my architecture friend Soko.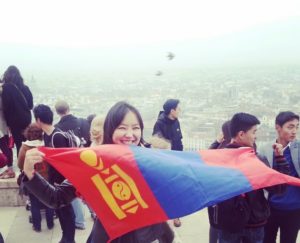 How did you like the country and the people? Write your favorite story briefly!
I was eagerly keen to challenge myself in negotiating and dealing with a different set of menus in my career. During my study in Hungary, I was accepted to join the research team at the Institute of World Economics, Hungarian Academy of Sciences with the support of my teaching professor Dr. Miklós Szany. This internship opportunity inspired my research interests in the field of international development and economics while building valuable professional networks and colleagues. At the same time, taking part in the research conferences and workshops during a year internship opened my eyes to the world facing challenges and ways forward. The Institute colleagues have been still supporting my aspiration to impact evaluation and development research. So, this was the most rewarding experience I met a lot of wonderful national professionals and researchers.
Did you have any difficulties with Hungarian culture? What was that and how did you handle it?
Thanks to the Hungarian-friendly culture, I had never struggled with any difficulties in terms of working together and building networks in the community. My Hungarian language was very limited during my studies, so I sometimes felt out of communication. Interestingly, in the area of campus or groceries, older people often asked me where I came from and when I said I am from Mongolia, many of them knows Mongolian and even their elders or relatives used to work and live in Ulaanbaatar during the Soviet era. These were very memorable and nice feelings.  Also, the most impressive thing was that I could communicate with anyone who is either older or younger in the English language. Moreover, I fully enjoyed Hungarian distinctive cuisine, architecture, and beautiful sceneries and counties to visit.
How does Hungarian culture differ from Mongolian culture?
Compared to Mongolian culture, Hungary is a culture with uncertainty as people often seem quite pessimistic and critical in any circumstance. It is might be because of the weather and livelihood goals, unlike Mongolians who seem relatively happy and smiling even though the livelihood and environment are unfavourable.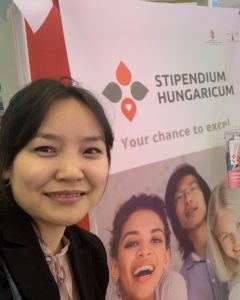 You are among the alumni volunteers. Why did you apply for that position? What's your task and how do you manage it? What do you think about the Alumni Network Hungary?
The networking skills and experiences gained during my studies in Hungary encouraged me to join the Alumni Network Hungary in Budapest. Even after returning home to Mongolia, I was frequently informed through newsletters and visits to the website. Then, the International Alumni Volunteer Programme 2021-2023 was announced and applied accordingly. My tasks are to facilitate alumni chapters in Mongolia by building local alumni groups in the same professional field of interest and mentoring fresh graduates. With this volunteering engagement, I will be able to give back my studying practices and strategies in Budapest and guide the accurate course and universities choice.
 What's your plan for the future? What's your advice for the new alumni members?
Engaging with 28 alumni from 15 countries is a big opportunity to build strong professional relationships and exercise the practice of establishing national chapters. This will eventually value the quality-oriented lasting connections in the professional field bringing positive impacts in the surrounding society. More specifically, my future career plan is to build the Mongolian Evaluation Networks cohorts by sharing my practical best practices and lessons learned from my professional expertise. To add a value to the network, the alumni network built in and I could integrate my journey with the professionals who can work together in the field of strengthening the M&E capacity of Mongolia in international development.