Why did you choose Hungary and the University of Debrecen?
The University of Debrecen is truly an international university with diversity. More than +80 countries students are studying here without any issues which means there's something that attracts students here, that is the practical-based education and friendly nature of professors. It hasvibrant faculties with top-class amenities on campus. What attracted me is the professors, who are a very important part of doctoral studies. I am glad that I have a very good, and world-acknowledged mentor, Prof.Dr. Béla Kovács.
How did you like your studies? What was your favourite memory during your studies? Please grab one and tell us the details.
I still remember when I have been awarded for Best product award in Romania under the Erasmus+ Training organized by 4 international universities at ULBS, Sibiu under the guidance of Prof.Dr. Endre Mathe. I feel proud that we represented Hungary and won the award. Even after this competition I participated in several international events and won a couple of awards for my university and faculty.
Did you have any difficulties with Hungarian culture? What was that and how did you handle it?
Yes, everyone faces difficulties, but it is good that I  experienced that side as well, because it has taught me so many good things. It opened and broadened my point of view toward different cultures and rituals. It helped me to learn different things like cuisine, language differences, and cultural variations.
How does the Hungarian culture differ from the Indian culture?
There is a total difference in food, traditions, and festivals. There are different types of food that can be found in both countries. I love lángos, kalács, and pogácsa which are totally different than in India. In India, we do use a lot of spices but here it is very normal and a bit healthy food. The difference between traditions and language makes Hungarian culture unique.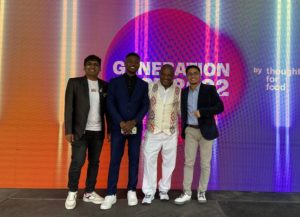 You set up a start-up and you chose specific research. Let's introduce this briefly.
It is really a privilege to form a start-up company after doing years of research. Currently, I am working on honey spice enrichment, and the addition of different medicinal plants (Herbs) in the honey to increase its nutritional value and taste enhancement. While using green walnut feed for honeybees we have developed a special variety of honey that can reduce blood sugar levels in humans. We have done several examinations on basis of this study we have started the Brand named as Zing-Bee Kft/Gmbh at Berettyóújfalu and are about to launch the green walnut honey. I am the Co-Founder and CEO of this company, and we shall expand this research by helping beekeepers by providing them with this specific type of feed to prepare the green walnut honey. It has a great future for expanding our research base to diabetic people and people who want to have healthy food replacements. As soon as we launch it publicly, I will recommend all our alumni members and students to check it once.
You've been in New York in the last month. Can you tell us about your professional journey?
Yes, It was a thrilling experience to visit Thought for Food Generation fest. The event was very well organized by TFF and Agritecture, we started with the first leg of the Conference by attending the talks on different issues in agriculture like food policy in NYC, DATA, AI, automation, hydroponics in schools, failed farms, scaling up a farm business, space farming, not leafy greens, tackling sustainability, and recycling issues. These are followed by a visit to NYK Roof's top farming Hydroponics sites of Gotham greens. On 29 September there was a community meeting of people called from different countries around the world where we had a networking dinner. On the 30 September morning, we went to Generation fest 2022 which started at 11 AM and lasted till 12.00 PM-midnight with so many programs mentioned below. I had an opportunity to meet different people from Ag-tech and Food Tech Backgrounds and had good talks with university delegates, researchers, CEOs, founders, CFOs, and CTOs of different start-ups and well-established companies like Indigo, Cargill, INARI, Gotham greens, WhatifFoods etc.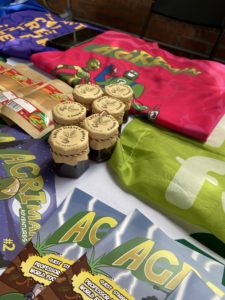 I represented the University of Debrecen, SAS Hungary, Alumni Network Hungary, our research area and specialties in food and agriculture in Europe, and launched our first product prototype of Zing Bee Green Walnut Honey. After attending this event there's a plethora of opportunities for our faculty to collaborate with universities, research institutes, start-ups, and especially the non-profit companies like the thought for food foundation who have shown an interest to collaborate with us, which can be beneficial for our students to learn start-up eco culture around the world, who are cutting edge start-ups with funding from VC's. There were a start-up and entrepreneurship-related talks for the participants on how and where we can get support internationally for our business. Apart from this, it will be a good opportunity for us to collaborate with some of the universities and research institutes for joint research projects and grants.
You are among the alumni volunteers. Why did you apply for that position? What's your task and how do you manage it? What do you think about the Alumni Network Hungary?
I love networking and parallelly love to create and build impactful networks for the betterment of society. In ANH I am currently working on building a non-profit organization with an alumni chapter in India which will facilitate, and support to conduct of various alumni meetings, and promote Hungarian higher education to prospective students from India. To create some valuable impact between India and Hungary in terms of education, business, and research.
Alumni Network is a good platform for all the alumni from Hungary to stay connected with their alma mater and Hungarian memories. It can be used as a great platform for networking and creating valuable impact between Hungary and your host country.
What's your plan for the future?
After finishing my doctoral work, I plan to continue my research work further with future opportunities in the food and agriculture sector as a post-doctoral researcher. Parallelly I also want to work on the Zing Bee start-up which can be expanded further with its overseas operations. I would like to advise all my fellow alumni, students, and upcoming scholarship awardees that life is full of surprises if you choose to develop yourself at every step. You need to work hard on your skills and practical approach which will definitely help you to land your first dream job.
Several examinations: https://www.mdpi.com/2223-7747/11/11/1391/htm
Thought for Food Generation fest: https://thoughtforfood.org/generationfest/