Why did you choose Hungary and ELTE university?
After my BA in Translation Studies at SDU (Almaty, Kazakhstan) I decided to take a year off to understand if I need to continue my studies further or not. I changed my field of interest and started my career as an aviation worker. I was employed by the Kazakhstani national air carrier "Air Astana". The job was very interesting and demanding at the same time, however, I realized that this is not what I want for my professional life in general.  I began to search for scholarship programme all around the world to pursue a master study. My research brought me to Stipendium Hungaricum scholarship programme. Ever since I have read the descriptions and got acquainted with the mission of the programme there was nothing I wanted more than to study in Hungary. What attracted me the most to Hungary was the quality of education and degrees recognized throughout Europe and beyond. My choice with the university wasn't made randomly either. I had come to choose ELTE because of its two reasons. Firstly, ELTE is among the oldest seats of higher education in Hungary and has been one of the leading universities in the country for many years. Secondly, it offers one of the best student communities in present-day Hungary.
How did you like your studies?
The Logic and theory of Science MA programme, which I had the luck to study, has a comparably new study programme with a small class environment that I liked the most. The number of students was usually under 10 people in seminars. The small class environment gave me a far greater opportunity to ask questions, participate in discussions and be sure that my work, paper, essay, exam answers, etc., would be evaluated carefully and given detailed comments.
I also appreciated and valued the student-professor interaction at my department. Professors were always ready to help; they were supportive and open to questions. These qualities made the study atmosphere more friendly. Moreover, we had students from all over the world, and being surrounded by young and ambitious people who seek knowledge was stimulating and energizing.
I liked that the students had a lot of freedom in the curriculum. The department was flexible about constructing our course of study based on the individual interests of each student. For instance, as a student with a Translation Studies background, I could ask for more language-related courses in the curriculum.
Last but not least what I liked about my studies was the location of my department. It is in the very heart of Budapest (in the city centre). Just getting outside from the university campus I could experience the beauty of Budapest: amazing architecture, old nostalgic trams, astonishing squares, brilliant bridges, breath-taking avenues, awesome museums, and a lot of other things.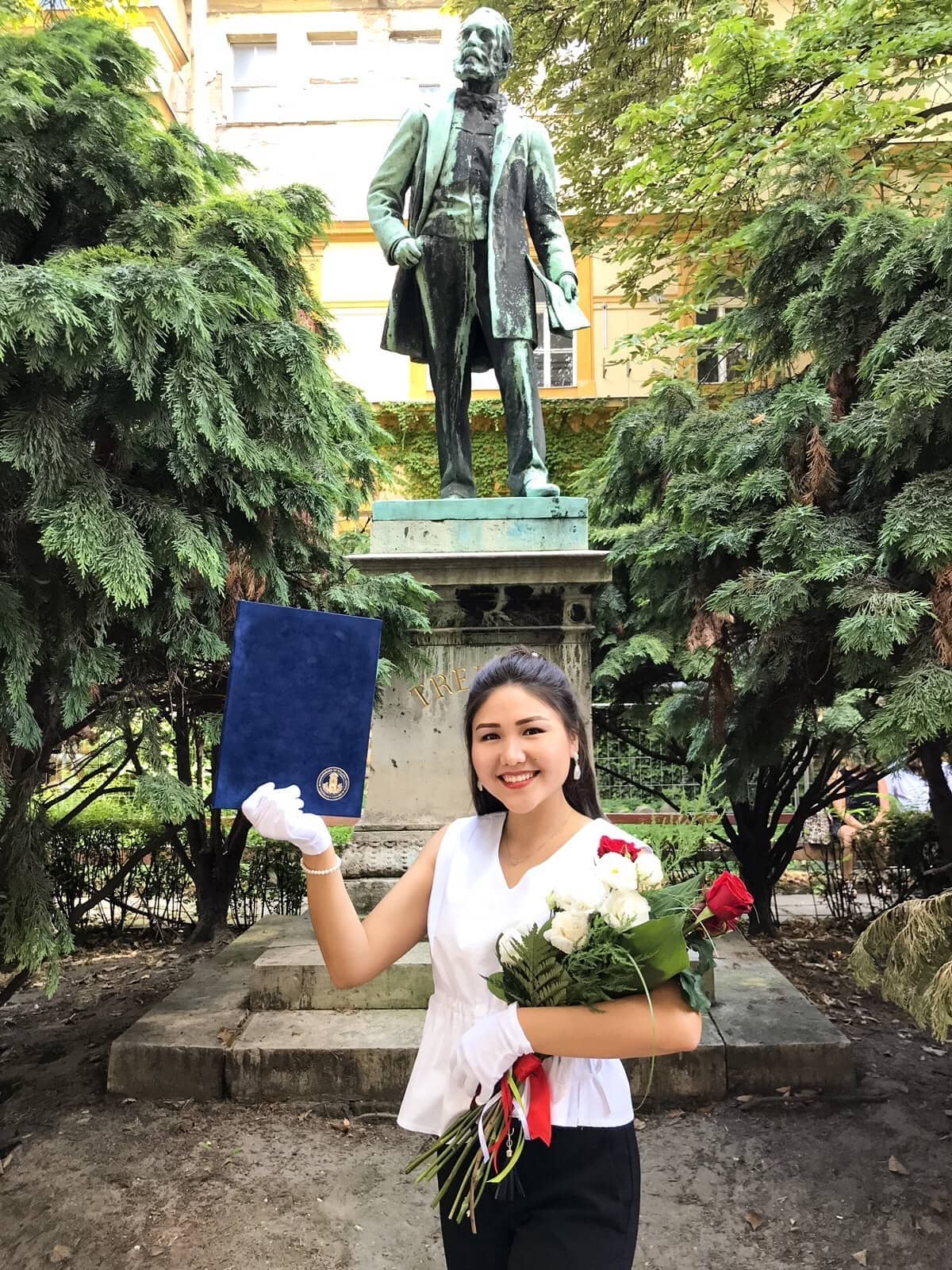 How did you like the country?
I enjoyed my time in Hungary a lot. I regret just about one thing that I did not travel much within Hungary. That is why Budapest is my only understanding of the whole country. I can judge from its capital that Hungary has affordable living costs, a lively and welcoming culture, a friendly and caring environment for foreigners. What is more, it is cosmopolitan, international, and diverse.
Did you have any difficulties with the Hungarian culture? What was that and how did you handle it?
I can firmly say that I did not face any difficulties with the Hungarian culture. Maybe because I was already aware of the new culture before my arrival: I read a lot of articles about Hungary on the internet and watched a lot of travel videos on YouTube. Moreover, I got in touch with Kazakhstani students studying in Hungary to learn more about the country and culture. Of course, I cannot miss mentioning the welcoming nature of Hungarian people either as the friendly international community which made me immerse in the new culture easily and smoothly.
How does the Hungarian culture differ from the Kazakh culture?
Major differences between Hungarian and Kazakh culture stem from religion, geographical location, the distinct worldview of citizens. However, what I noticed from daily life is that Hungarian people aren't as much "meat lovers" as Kazakhs. I remember the surprised faces of my Hungarian friends when they got to know that a Kazakh family can consume the meat of one horse in one winter. Surely, eating horse meat is another cultural shock for them
Despite the significant cultural differences, the Hungarian and Kazakh languages have some common words. As a linguist, I can confirm that those common words are derived from Turkic roots. It was a big awe for me to learn that the word "alma" in Hungarian means "apple" just like in Kazakh and with very the same pronunciation. Moreover, in Kazakh naming conventions, girls are given the name "Alma" just like Hungarian girls are.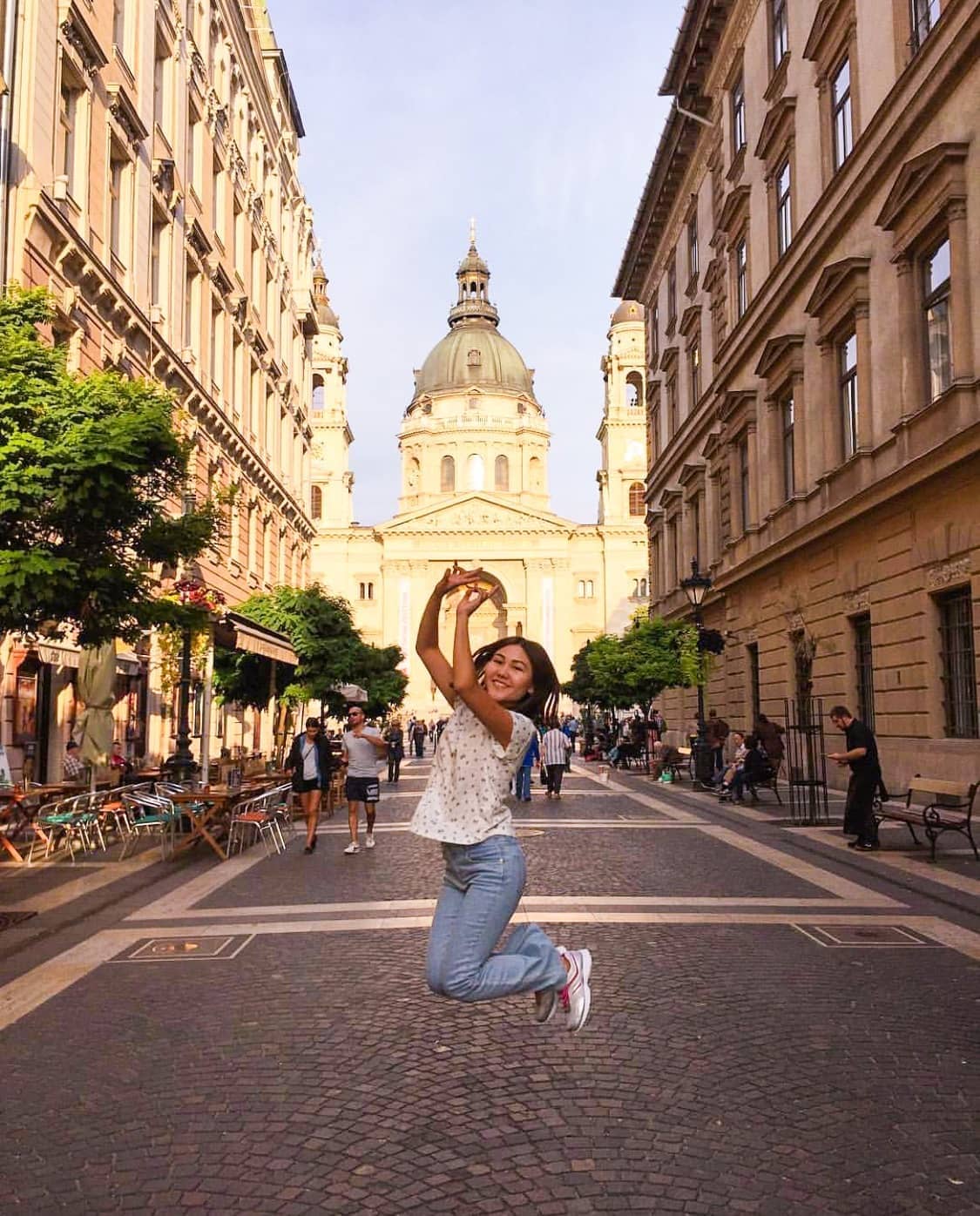 You are among alumni volunteers. Why did you apply for that position? What's your task and how do you manage it? What do you think about the Alumni Network Hungary?
After graduation, I did not want to cut off my relationship with the Hungarian institutions and Hungary in general. Two years at ELTE, Budapest was a unique opportunity for me which goes beyond gaining knowledge through education. I discovered Hungarian culture, met a lot of new people, made friends, and gained valuable experience. All these positive memories prompted me to apply for the Alumni Network Hungary Volunteer Programme. I wanted to be helpful for other students who are thinking of applying to Hungary: assist them with finding different study programmes, contacting universities, and share my experience with the Stipendium Hungaricum scholarship. I believe good experience worth sharing, and Alumni Network Hungary is the best place to do so. Moreover, it enables the alumni to keep in touch with their alma mater, classmates, and other international graduates; and stay informed about news from the Hungarian higher education system.
What's your plan for the future?
I plan to connect with Hungary once again. This fall I am starting a PhD in "English Language Pedagogy and Applied Linguistics" at ELTE.  I am looking forward to coming to Budapest and meet my professors, colleagues, and friends. This time I promise to myself that I will travel the whole of Hungary and start learning Hungarian.