The programme is based on bilateral educational cooperation agreements detailing the eligible fields, levels, and types of study. Find out more about your local sending partner here.
For details on provisions, eligibility and other application criteria please study the new Call for Applications here!
What does the scholarship offer for you?
Tuition free education
Monthly stipend
Accommodation contribution
Medical insurance(s)
Student ID
How can you apply?
1) Check stipendiumhungaricum.hu to find out more about the scholarship, as well as studying and living in Hungary.
2) Check which study fields and levels are available for students in your country, check entry requirements of desired study programmes.
3) Contact your sending authority for further information about their requirements.
4) Register and upload your documents on the online application system. To make it easier, download your own check list and the application guide from here!
5) Wait to hear from your local sending authority regarding nominations.
6) Take the (online) entrance exams at Hungarian universities.
7) Cross your fingers until the results are announced by Tempus Public Foundation.
What documents do you need to upload?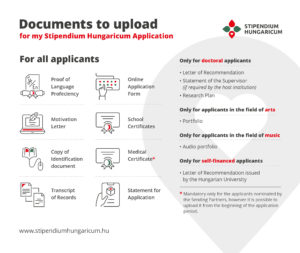 Already convinced? Check out the new call for applications and register to the application system!